Great Recipes for this Christmas
Easy Christmas Pudding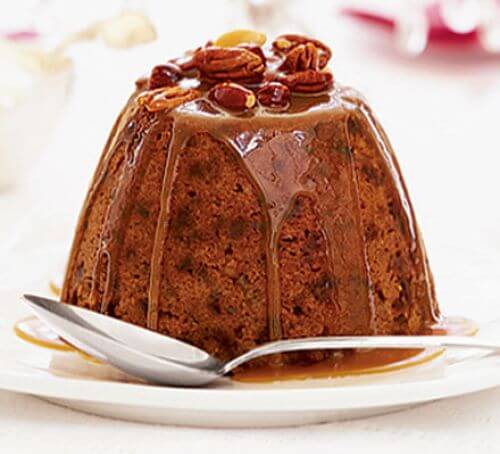 Ingredients:
1 cup raisins

1 cup sultanas
1 cup self-raising flour
1 cup finely grated butter
(about 115g/4oz)
1 cup fresh brown breadcrumbs (from around 4 thick slices of bread)
1 cup light muscovado sugar
1 cup mixed nuts, chopped plus extra to decorate
1 tsp ground cinnamon
1 tsp ground mixed spice

1 cup milk
1 large egg
butter, for greasing
For the butterscotch sauce:
85g butter
100g light muscovado sugar
200ml double cream
1 tsp vanilla extract
For the pudding, empty the first six cups and the nuts, if using, into a mixing bowl with the spices, then stir in the milk and egg. Once well combined, tip into a buttered 1.5 litre pudding bowl.


Cover with a double layer of buttered foil, making a pleat in the centre to allow the pudding to rise. Tie the foil securely with string, then place in a steamer or large pan containing enough gently simmering water to come halfway up the sides of the bowl. Steam, covered with a lid, for 21⁄2 hours. Check the water level during cooking, topping up if necessary. If you are preparing this pudding ahead, remove the foil, let it cool slightly, then wrap in cling film and then fresh foil. If you are serving it immediately, unwrap and invert onto a deep plate.


For the sauce, put everything in a pan and bring slowly to the boil, stirring. Allow to bubble away for 2-3 minutes, still stirring, until the sugar has dissolved and the sauce is pale caramel in colour and slightly thickened. Remove from the heat. Pour the sauce over the pudding and decorate with the whole mixed nuts.
Source: http://www.bbcgoodfood.com/recipes/2310/7cup-christmas-pudding
Greek-Style Slow-Roasted Lamb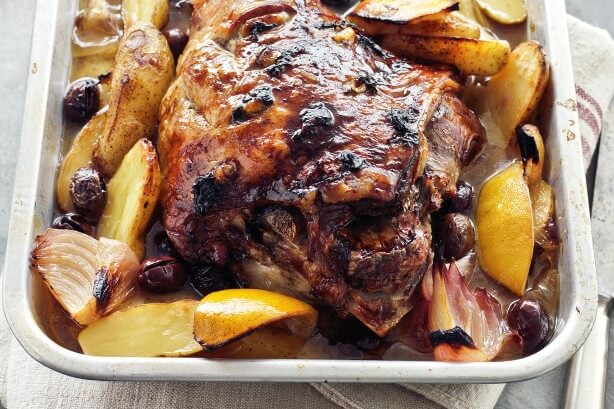 Ingredients:
2kg leg or shoulder of lamb
1 tablespoon olive oil
2 teaspoons sea salt flakes
4 garlic cloves, thickly sliced
12 oregano sprigs
1 1/2 cups (375ml) Campbell's Real Stock Chicken
1/2 cup (125ml) dry white wine
2 red onions, quartered
12 kipfler potatoes, halved lengthways
2 lemons, quartered
1 cup (175g) kalamata olives
Preheat oven to 180°C. Place the lamb in a large roasting pan. Drizzle with oil and sprinkle with salt. Use a small, sharp knife to cut small slits, about 2cm deep, over the surface of the lamb. Place a slice of garlic and oregano sprig in each slit.


Drizzle the chicken stock and wine around the lamb and cover with foil. Cook in preheated oven for 1 hour. Remove from the oven and spoon pan juices over the lamb. Arrange the onion, potato, lemon and olives around the lamb. Cover with foil and roast for a further hour.


Remove the foil and roast for a further 30 minutes or until lamb is golden brown and very tender. Remove from oven. Cover with foil and set aside for 15 minutes to rest.


Thickly slice the lamb and arrange on serving plates with onion, potato and olives and drizzle with pan juices. Serve immediately.
Source: http://www.taste.com.au/recipes/23230/greek+style+slow+roasted+lamb